Dual Input Thermocouple Thermometer from Barnant
---
Dual Input Thermocouple Thermometer from Barnant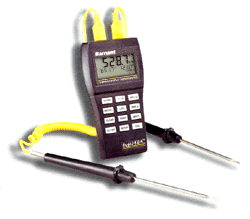 Dual Input Thermocouple Thermometer J- T- E- K
Accepts up to 2 thermocouple inputs and either J, K, T or E thermocouples

Manually store up to 25 readings in non-volatile memory

Two point field calibration; offset and slope for improved system accuracy

T1/T2 differential

Accuracy: ±0.7°F (±0.4°C) above -238.0°F (-150.0°C); plus ±0.1% of reading

UL & cUL rated Intrinsically safe-Certified for Class I, Division 1; Groups A, B, C, and D hazardous (classified) locations

Sealed Silicone rubber keypad

Rated IP 54 for splash & dust resistance

ABS/polcarbonate impact resistant case

Fold out stand for bench top operation

Meets CE requirements for electromagnetic compatibility

Bright, easy to read LCD

3 year warranty

Manufactured in U.S.A.
Dual Input Thermocouple Thermometer Features:
MIN, MAX, HOLD, °C OR °F, MULTI-DATA LCD This Dual Input Thermocouple Thermometer offers you numerous features; choose from J. K, T or E thermocouple curves, dual probe capability, selectable resolution and 12 button keypad for simplified set up.
Display Minimum, Maximum and differential readings simultaneously using one or two probes on selectable, easy-to-read, multi-data LCD. Two point field calibration feature for offset and slope. Allows user to calibrate the probe to known temperatures. Meter automatically stores and adjusts for inherent probe error enabling unparalleled system accuracy. Calibration lock out protects NIST traceable factory settings and prevents tampering with field calibration values.
Dual Input Thermocouple Thermometer Ordering Information:
600-1040 Dual J-T-E-K Thermocouple Thermometer
Cat. no.
Type
Range
Accuracy
Resolution
Functions
Display
600-1040
J
-328 to 1832°F
(-200 to 1000°C)
above -150°C
(-238°F)

±(0.1% of reading and ±0.4°C (0.7°F)

below -150°C
(-238°F)

±(0.25% of reading and ±1°C (2°F)

0.1°: <= 999.9° and 1°: > 999.9°
On/off, hold, calibration, °C/°F, J-T-E-K, maximum, minimum, differential, store,
Three 4-digit LCD. Displays: 0.4"H and 0.2"H
K
-418 to 2501°F
(-250 to 1372°C)
T
-418 to 752°F
(-250 to 400°C)
E
-418 to 1832°F
(-250 to 1000°C)
For Quick Delivery From Stock - CANADA & USA TOLL FREE: 1-800-279-9912