Temperature Monitoring System from Barnant
---
Temperature Monitoring System from Barnant

Store and recall up to 4680 sets of readings with time and date

Automatically or manually display, record and output temperature readings

Field calibrate each probe separately - achieve accuracies of ± 0.1% of reading!

Bidirectional RS-232 for setup or PC datalogging

Includes a real-time clock, nonvolatile memory, and parallel printer output (benchtop only)

Immune to RF interference
Our Temperature Monitoring System is ideal when simultaneous monitoring of temperatures during different process steps or phases is critical, these new 12-channel scanning thermometers. The wall mount Temperature Monitoring System is ideal for permanent installation and continuous monitoring of your processes. The benchtop Temperature Monitoring System accepts most any power source giving you great flexibility as to where and when it may be used. Both models function as a datalogger - store data in the non-volatile memory and later download to your printer or PC. Link both models in series to expand the number of channels you can scan. Each of the 12 thermocouple inputs are programmable to scan from every four seconds to hourly.
Benchtop Thermometer
Parallel printer connection allows you to connect the thermometer to a printer - make a hard copy of your data as a permanent record
Power unit with included 115 VAC or 230 VAC adapter or any 10 to 25 VDC or 7 to 20 VAC 500 mA power supply. (user supplied)
Accepts thermocouple probes with miniconnectors for quick and easy probe changes.
Wall-Mount Thermometer
Use high and low relays for on/off control; relays are rated at 250 VAC 2A or 2A at 30 VDC resistive.
Features an easy-to-view drip proof housing with all wire connections on bottom.
Power the unit with 100-240 VAC, 50/60Hz
Instrument Features For Both Models
Scan and log up to 12 thermocouple inputs from any combination of J, K, T, E, N, B, R, and S thermocouple probes.

Thermocouple type is individually selectable per channel.

Datalogging feature automatically stores up to 4680 sets of readings.

Download readings or stored data to your computer.

Link up to 8 units together to expand channel capacity.

Sequentially captures temperature data, allowing you to monitor and record process variations - ideal for statistical process control.

Easy-to-use front panel MENU key lets you program datalogging and print intervals, scan rate, date and time, temperature scale (°F, °C, K, °R), resolution (0.1 or 1°), channels displayed, thermocouple type, and data output parameters.

Each channel features HOLD, STORE, MAX and MIN (measures maximum and minimum values), RECALL and AVERAGE buttons.

Calibrate each channel separately at either one or two points to minimize probe offset. Parameter setup and calibration offsets are stored in nonvolatile memory.

Each scanner is factory calibrated to NIST-traceable standards.
Multiple Safety Features For Both Models
MENU key lets you select high or low alarm set points for each channel. Easily enable or disable audible alarm and set alarm hysteresis; program for manual or automatic alarm reset.

Thermocouple inputs are electrically isolated from each other and from data outputs - provides safe and accurate measurements even when probes are exposed to various electrical conditions.
Physical Features For Both Models
Large 3/4" high, 14-segment, 12-character alphanumeric LCD indicates channel number or name, temperature reading, and temperature units.

Indicator light warns you of open probes or out-of-range readings.

Benchtop models accept thermocouple probes with ANSI miniconnectors for quick hookup and changes.

Wall-mount models accept thermocouple probes with stripped ends.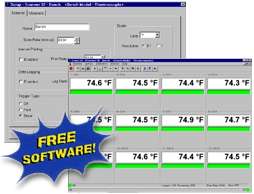 Computer/Printer Capabilities For Both Models
Use printing function to send current readings directly to your computer and printer at chosen intervals.

Vary datalogging and printing intervals from 4 seconds to 99 minutes, 59 seconds.

Features RS-232 (for both units), and parallel printer output of date and time (benchtop only), channel number and name, and temperature readings in a tabular format.

Includes RS-232 cable. Parallel printer cable is not included (sold separately)
Remember to order the proper probes for your application. Barnant offers a wide variety of thermocouple probes (J, K, T, E, N, R, S, and B) wire, connectors and other accessories to insure your temperature scanner will provide the ultimate of function and performance.
Temperature Monitoring System Specifications:
J: -200 to 1000°C (-392 to 1832°F)

K: -250 to 1372°C (-418 to 2501°F)

T: -250 to 400°C (-418 to 752°F)

E: -250 to 1000°C (-418 to 1832°F)

N: -250 to 1300°C (-418 to 2372°F)

R: 0 to1768°C (32 to 3214°F)

S: 0 to 1768°C (32 to 3214°F)

B: 200 to 1800°C (392 to 3272°F)
Resolution: 0.1°/1° selectable up to 999.9°, 1° above 1000°; autorange to 1° below -150°C
Accuracy: J, K, T, E, N: ±0.1% of rdg., ±0.5°C (±0.8°F) above -150°C; ±0.25% of rdg., ±1°C (±2°F) below -150°C R, S, B: ±0.1% of reading, ±2°C (±4°F)
Display: 12 character alphanumeric LCD
Display update rate: 3 sec/channel
Scan rate: from 4 sec/12 channels to 99 min 59 sec/12 channels
Alarm output: (wall-mount units only) SPDT high/low relays are rated at 250 VAC 2A or 2A at 30 VDC resistive.
Digital output: Both models: RS-232, ASCII format, baud rate 19.2 K, RJ11connector; Benchtop unit only: Centronics parallel printer output; DB25F connector
Dimensions: Benchtop: 7 1/2"L x 10 1/2"W x 3 1/2"H Wall-mount: 5 1/2"L x 11 1/4"W x 8 1/2"H
Shpg wt: Benchtop: 3 lb (1.4 kg) Wall-mount: 4 lb (1.8 kg)
Power: Wall-mount: 90-240 VAC, 50/60Hz Bench-top: 10 to 25 VDC, or 7 to 20 VAC 500mA. (optional, user supplied)
| | | |
| --- | --- | --- |
| Cat No | description | Include Power Supply |
| 692-0000 692-0230 | Benchtop | 115 VAC 50/60 Hz 230 VAC 50/60 Hz |
| 692-1000 692-1230 | Wall-mount | 115 VAC 50/60 Hz 230 VAC 50/60 Hz |
For Quick Delivery From Stock - CANADA & USA TOLL FREE: 1-800-279-9912