Lascar EL-WiFi-TH
WiFi Temperature & Humidity Data Logging Sensor
---
EL-WiFi-TH WiFi Temperature & Humidity Data Logging Sensor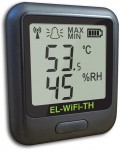 EL-WiFi-TH WiFi Temperature & Humidity Data Logging Sensor
WiFi capability and integrated display

Wireless connectivity to PC via WiFi

View and analyse multiple sensors using the PC application, including immediate graphing of historic data

Measurement range from -20 to +60°C (-4 to +140°F)

Rechargeable internal lithium polymer battery
The EL-WiFi-TH sensor measures the temperature and humidity of the environment in which it is situated. Data is transmitted wirelessly via a WiFi network to a PC and viewed using a free software package. During configuration the sensor will search for an existing wireless network whilst physically connected to the PC. It can then be placed anywhere within range of the network. If the sensor temporarily loses connectivity with the network, it will log readings until it is able to communicate again with the PC application (max 60 days at 10 second sample interval). The range of the sensor can be increased by using WiFi extenders.
Our sensors require your wireless network to be IEEE 802.11b compliant. If you have an enterprise network or multiple access points with the same SSID, please contact us to discuss your application before placing your order.
Lascar EasyLog EL-WiFi Software Downloading Data
Lascar EasyLog EL-WiFi Software Sensor Set-Up
The EL-WiFi-TH is suitable for a wide variety of applications, particularly where remote monitoring is important, these include:
Environmental and weather monitoring

Agricultural and livestock

Food & drink

Building & site monitoring

HVAC
Calibration Certificates
Lascar's calibration certificates* are traceable to UKAS or NIST standards depending on your location. Customers in the Americas, or customers ordering through our US sales office will receive NIST traceable certificates generated in our ISO 17025 facility, whilst customers in the UK, EU, Rest-of-world or customers ordering through our UK headquarters will receive UKAS traceable certificates.
Certificates ordered through our online facility will be single-point tested at 25ºC and 50%RH. If you have a requirement for additional points, or require a different temperature or RH point, please contact your nearest Lascar sales office.
* Calibration certificates are not supplied as standard, and must be ordered separately. Order part CAL-TEMP/RH-US or CAL-TEMP/RH-UK depending on your location.
Software
The EL-WiFI-TH is not supplied with software, however the control software is downloadable, free-of-charge from our website at the link below. The software is compatible with Windows XP, Vista and 7 (including 64-bit operating systems). Note, the software is not compatible with Mac or Linux.

EL-WiFI-TH Brochure
For Quick Delivery From Stock - CANADA & USA TOLL FREE: 1-800-279-9912