Fuzzy Logic Temperature Controllers
For Temperature Control
---
Fuzzy Logic Temperature Controllers For Temperature Control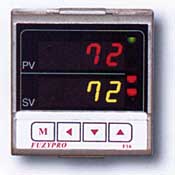 Fuzzy logic temperature controllers can easily be configured to provide precise control. The advanced Smarter Logic "Fuzzy" allows processes to be controlled better than ever before, with virtually no initial overshoot or temperature variations.
A fuzzy logic temperature controller is an instrument used to control temperature. The fuzzy logic temperature controller takes an input from a temperature sensor and has an output that is connected to a control element such as a heater or fan.
To accurately control process temperature without extensive operator involvement, a temperature control system relies upon a controller, which accepts a temperature sensor such as a thermocouple or RTD as input. It compares the actual temperature to the desired control temperature, or setpoint, and provides an output to a control element.
On/Off Fuzzy Logic Temperature Controllers
An on-off temperature controller is the simplest form of temperature control device. The output from the device is either on or off, with no middle state. An on-off temperature controller will switch the output only when the temperature crosses the setpoint. For heating control, the output is on when the temperature is below the setpoint, and off above setpoint.
Proportional Fuzzy Logic Temperature Controllers
Proportional fuzzy logic temperature controllers are designed to eliminate the cycling associated with on-off control. A proportional fuzzy logic temperature controller decreases the average power supplied to the heater as the temperature approaches setpoint. This has the effect of slowing down the heater so that it will not overshoot the setpoint, but will approach the setpoint and maintain a stable temperature.
PID Fuzzy Logic Temperature Controllers
PID fuzzy logic temperature controllers provides proportional with integral and derivative control, or PID. This controller combines proportional control with two additional adjustments, which helps the unit automatically compensate for changes in the system.
Heaters Controls And Sensors offers a number of fuzzy logic controllers which include temperature indicators, temperature controllers, alarm controllers, process controllers, heat/cool controllers, in various styles and ranges.
Fuzzy Logic Temperature Controllers
| | |
| --- | --- |
| | |
| | 1/4 DIN Fuzzy Logic Controllers From FuzyPro |
| | Fuzzy Logic Temperature Controllers Heat/Cool Controllers can easily be configured to provide precise control. The advanced Smarter Logic "Fuzzy" allows processes to be controlled better than ever before, with virtually no initial overshoot or temperature variations. |
| | Fuzzy Logic Process Controller Model 4100 offers modular construction and configurable I/O options making it suitable for most temperature and process loops. |
| | Fuzzy Logic Limit Alarm Controller Model 4700 is a safety cut out, with optional annunciators and alarms. A latched relay cuts power if safe values are exceeded. A reset is required before continuing. |
| | 1/8 DIN Fuzzy Logic Controllers From FuzyPro |
| | Fuzzy Logic Temperature Controllers Heat/Cool Controllersare designed to provide precise control with a quick and easy set up procedure. SMT and microprocessor technology provides all these features plus reliability and economy. LED index indication allows full viewing and selection of parameters. |
| | Fuzzy Logic Digital Controller Model 8010 microprocessor based digital indicator. Available with red or green displays. One latchable relay is fitted as standard, plug-in modules allow two more alarm relays, PV retransmission or transmitter PSU. |
| | Fuzzy Logic Dual Colour Digital Controllers Model 8080 offers high accuracy temperature or process inputs. The custom designed display is larger than other instruments of this size and can be set to change colour to indicate alarm status. |
| | Fuzzy Logic Process Controller Model 8100 combine's technical functionality, field flexibility and ease of use to give you the best in comprehensive process control. |
| | Fuzzy Logic Valve Motor Controller Model 8170 is a process controller designed specifically to drive valve motors with a unique VMD tuning algorithm. |
| | Fuzzy Logic Plastics Controller Model 8600 temperature controller can measure and display the header unit. Special heater break alarms give early warning of element failure, to protect equipment and product. A soft-start feature is available for process warm up. |
| | 1/16 DIN Fuzzy Logic Controllers From FuzyPro |
| | Fuzzy Logic Process Controller Model 6100 with its improved interface, technical functionality and field flexibility, the gives you the best in comprehensive control for most temperature and process control loops. |
| | Fuzzy Logic Valve Motor Controller Model 6170 is a process controller designed specifically to drive valve motors, with a unique VMD tuning algorithm. |
| | Fuzzy Logic Profiler Controller Model 6400 is one of the most powerful profilers of its size available. It features our proven RaPID fuzzy logic control algorithm, for faster, more accurate control. 4 programs can be held in memory. |
| | Fuzzy Logic Plastics Controller Model 6600 provides high quality control in applications requiring a heater break function, or soft start forprocess warm up. Heater current can also be displayed,removing the need for a separate ammeter. |
| | Fuzzy Logic Limit Alarm Controller Model 6700 provides a programmable safety cut out with optional outputs for annunciators and alarms. A latched relay cuts power to the process if it exceeds the safe value. The unit must be reset before the process can continue. |
| | Fuzzy Logic Temperature Controllers can easily be configured to provide precise control. The advanced Smarter Logic "Fuzzy" allows processes to be controlled better than ever before, with virtually no initial overshoot or temperature variations. |
| | 1/32 DIN Fuzzy Logic Controllers From FuzyPro |
| | Fuzzy Logic Temperature/Process Controllers for controlling temperature, humidity, pressure, flow, pH, detecting voltage, current, power, and phase failure. |
| | Fuzzy Logic Indicator Controller Model 2300 is available as either an indicator or controller. Small size does not come at the expense of features, they have large 10mm high displays, 2 amp relays and full 3-wire PT100 inputs. The controller features our hand-free Easy Tune PID algorithm. |
| | Fuzzy Logic Controls |
| | Fuzzy Logic Controls - Profiler Controls, Process Controls, Alarm Limits |
For Quick Delivery From Stock - CANADA & USA TOLL FREE: 1-800-279-9912