2-Wire Head Mount Transmitter
---
2-Wire Head Mount Transmitter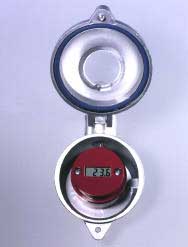 The FZ7CR two-wire head mount is one of the smallest, most advanced µP-based transmitter available. Able to fit in a small, standard connection head, it is quickly and easily programmed to your exact PT100 RTD requirements via your personal computer and our "Point 'N Click" Software/Interface - allowing you to have a single transmitter to meet all of your Pt100 requirements.
The FZ7CR two-wire head mount transmitter is scaleable from -200°C to the upper limit of Pt100 RTDs (850°C). Features include: 25°C (40°F) minimum span, complete linearization; selectable 4-20 mAor 20-4 mAoutput; wide power supply capability (13-40 VDC); selectable upscale/downscale; total RFI-immunity (DC to 1 GHz.); high loop drive capability (600 ohms @ 24 VDC); and a five (5) year warranty against failure. It even has dual 10-character alphanumeric tagging capability. It is also available with optional ATEX Approval for Intrinsic Safety.
Optional features of the FZ7CR two-wire head mount transmitter include a loop-powered plug-in LCD readout for local display of the measured temperature. There is also a small DAN connection head with a glass window so you can read the display without opening the head. For explosion-proof applications, we also have a large connection head with glass window and special large (1/2"H digits) plug-in loop-powered LCD readout.
There is no longer any reason to stock several different transmitters when a single, low-cost, high accuracy unit can meet all of your requirements. Easily programmed in less than one minute, the FZ7CR two-wire head mount transmitter is THE single transmitter that can be used for all of your different Pt100 range requirements.
Microprocessor-Based

Pt100 RTD Input

Fully-Programmable

Fully-Linearized

RFI-Immune

High Accuracy (0.1%)

Small Size (1.7" dia. x 1"H)

5-Year Warranty

Optional Plug-In Loop-Powered Readout

Optional Connection Head w/Window

Optional ATEX Intrinsic Safety Approval
For Quick Delivery From Stock - CANADA & USA TOLL FREE: 1-800-279-9912