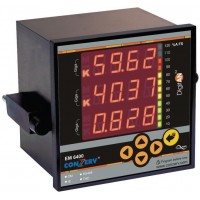 The EM6000 DigitAN panel meters are TRMS three phase multi-function panel meters for use in control panels, motor control centers (MCCs) and genset panels. As such EM6000 meters are compact, rugged, durable and are easily installed.
This product is designed to measure three-phase three wire or four wire systems to 480V. It can also measure three single phase two wire systems. It is accurate on distorted waveforms and allows the user to set transformation ratios for both potential transformers and primary and secondary current transformers and has a built-in phase analyzer.
The Conzerv EM6400 DigitAN Panel Meter monitors active/apparent power & energy consumption, load current, Run hours, ON hours in a single meter and all instantaneous, integrated and demand parameters. Displays Volts, Amps, Frequency/PF simultaneously and displays Amps, Power, PF simultaneously. Analyzes power quality. Helps energy balancing.
The display features five buttons for configuring and reviewing data, a large illuminated LED display with an analog 'load bar' for easily viewing system load.
The unit receives power through an auxilliary power supply that can run on AC or DC power from 44 - 300V.
There is an optional RS485 communications port to communicate with PCs, PLCs and DCS.

Brochure