Programmable Temperature Controllers
---
Programmable Temperature Controllers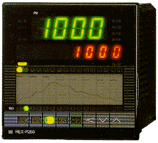 Programmable Temperature Controllers are microprocessor based program controllers which stores a maximum of 256 segments in 16 patterns (16 segments per pattern ) and are the ideal instrument for measuring temperature, controlling heaters, and logging temperature data.
Programmable Temperature Controllers are compact 96 mm (4" ) Square DIN size unit that features a unique touch key panel which allows the display section of the front panel to be used not only for setting but also for data entry.
Programmable Temperature Controllers Features:
Advanced ramp and soak

Large memory storage - 16 patterns/16 segments

Autotuning learning function

Easy programming with unique touch key

Compact size 96 x 96 mm

Audible verification of key operation

Setting lock function for security operation mode

Mode indicators RESET RUN FIX MAN SET enable easy monitoring

Program pattern card simplifies program pattern checking

3 year warranty
Programmable Temperature Controllers Specifications:
INPUT
Thermocouple - Type J,K,T,E,B,R,S,N (selectable)

RTD - PT 100 ohm (DIN or JIS)

Linear - -10-60mV Configurable input other voltage or current.

Display - in temperature or engineering units

Outputs - Single output with 2 optional independent alarms - Heating and/or cooling outputs with 2 optional alarms

Relay - SPST relay rated 3A, 240V maximum resistive load

Pulsed Voltage - 32VDC, 20mA maximum ohms

Current - 4-20mA, 0-20mA maximum load 500 ohms

Voltage - 0-10V minimum load 500K ohms

Alarms - 8 selectable modes each alarm - SPST relay(s) rated 2A, 240V maximum resistive load.
CONTROL FEATURES
Temperature Range - Selectable Set Point: -1999-31820ºF/-1128-1750ºC

Alarm Set Point - Full Range Adjustable

Control Modes - Controls can be configured as On/Off Proportional(P), Proportional with manual reset, Proportional/Integral(PI) Proportional Derivative(PD), Proportional/Integral/Derivative(PID), Heating and Cooling Proportional Band:O-100% of span

Integral (Reset) - 0-3600 seconds

Derivative (Rate) - 0-1000 seconds

Anti-Reset Wind-up. Inhibits integral action outside of proportional band.

Cooling - Adjustable deadband from -10 to + 10% of cooling proportional band

Manual Mode - Configurable as open loop control should sensor no longer function

Cycle Time - 0-120 seconds

Sensor Break Protection. Configurable status of control and alarms

Control Action - Selectable-Direct action for cooling Reverse action for heating
INDICATION
Display - 4 digit red 5/8" LED Process Value Display. - Green 1.2" LED Set Value display
Selectable decimal placement for normal or high resolution display
Example - 0000, 000.0, 00.00 or 0.000

F/C - Selectable with 2 LED indicators

Sample Rate - 250 milliseconds

Data Retention - 10 years (EEPROM)

Control Stability - + - 0.15% of full scale

Accuracy - +/-0.25% of range: +/-1ºC or 0.5ºC in high resolution

Cold Junction Compensation - 0.1 % ambient

External Resistance - 100 ohms maximum

Common Mode Rejection - 120dB

Normal Mode Rejection - 60dB

Input Impedance - 10M ohms

Operating Temperature - 14-122ºF-10-50ºC

Humidity - 0-90% RH (non-condensing)

Insulation - 20M ohm minimum (5OOVDC)

Breakdown - 2OOVAC, 5O/60Hz 1 minute

Vibration - 10-55Hz amplitude 1 mm

Shock - 200m/c (20g)
For Quick Delivery From Stock - CANADA & USA TOLL FREE: 1-800-279-9912