Ceramic Band Heaters
---
Ceramic Band Heaters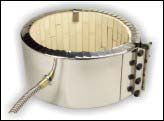 Ceramic band heaters are medium-to-high temperature heaters that have 1200ºF as a maximum working temperature. These durable heaters have in-built ceramic fibre jackets that make them energy efficient. They are available with different terminal styles, are fully flexible, and can accommodate holes and cut-outs, with high velocity fans and can be used as efficient Heat/Cool bands that provide accurate temperatures and protective shrouds for operator safety.
Ceramic band heaters provide long life and use less wattage (because of insulation) in plastics extrusion and injection molding applications. These ceramic band heaters are constructed with a stainless steel shroud enclosing high quality ceramic knuckles through which run coiled high temperature nickel-chromium element wire. Ceramic band heaters are high temperature heaters that are long lasting and now a available with 1 /4" or 1 /2" insulation.
Ceramic band heaters are only 5/8" thick with 1 /4" insulation and 3/4" thick with 1/2" insulation. Maxi Insulated Heaters are 1" thick and have very high efficiency.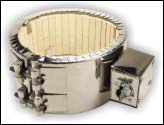 Ceramic Band Heaters Features:
High sheath temperatures to 1200ºF

Flexible design for easy removal and installation

Nickel-chromium resistance wire precision helically wound

Thermally insulation construction for quick heat transfer

Energy efficient Less power consumption

High grade interlocking refractory ceramic insulators

Various insulation thickness' available

Ceramic Band Heaters Advantages:
Lower Operating Cost - Because of superior insulation, less heat escapes to the air and less wattage is required to maintain barrel temperature. Also the heater is safer because the external surface is much cooler.

Operator Comfort - With the majority of the heat going directly to your process, the ceramic band heater gives off significantly less heat to ambient air than a mica band heater.

Longer Heater Life - because all materials used are rated to operate at very high temperatures.

Higher Operating Temperatures

Flexible - easy to install and remove

Dual Heat Transfer - Heat is transferred through both radiation and conduction so a near perfect fit is not required as with other heaters, such as mica heaters.
Ceramic Band Heaters Construction:
In ceramic band heaters, nickel-chrome wire is embedded in a flexible outer wall made of special, interlocking ceramic tiles, which are assembled like a brick wall. A ceramic fiber insulating mat and a stainless steel jacket cover this assembly. This construction prevents heat loss and reduces electrical consumption by 20%.
An energized ceramic band heater will have a temperature of 350ºF to 450ºF on its outside shell when the inside temperature is maintained at 1200ºF. To improve the conservation of energy, different thickness of ceramic fiber insulation mats are available.
Heat is transferred from ceramic band heaters to the surface of an application through conduction and radiation. This is why a tight grip on the cylinder is not as critical as in other types of heaters. Moreover, over tightening should be avoided, since the pressure on the insulation mat reduces its insulating efficiency.
Ceramic band heaters are made by using different combinations of ceramic tiles, which are available only in specific lengths. Consequently, the width of a ceramic band heater ban falls within a certain incremental range.
Ceramic band heaters can be manufactured with different clamping mechanisms, terminations styles, holes and cut-outs.
Ceramic Band Heaters Clamping Styles:
Flange Lock-Up - The most economical clamping style, with #10-32 nuts and screws.

Latch & Trunion - Available on heaters that are 10" or bigger in diameter. This clamping style provides ease of installation and removal.

Barrel Nuts - Barrel nut fasteners with 1/4-20 socket head screws are standard on all ceramic band heaters. This style can accommodate springs which compensate for thermal expansion.
Ceramic Band Heaters Specifications:
Dimensions - Minimum Inner Diameter 2.00"
- Maximum Diameter Consult HCS
- Maximum width 2 X diameter Consult HCS

Voltage - 12 volts to 600 Volts AC/DC 1 or 3 Phase

Watt Densities - Maximum to 45 watts

Maximum Current - 25 Amps

Width Tolerance - +/-1 /8"

Options - Holes along the heater at required location
- Cutouts or slots of various dimensions
- Partial Coverage for sectional heating
- Larger Gaps at clamping end for sensors etc.
- Ground Wire or Lug for safety
- 2 Piece or Hinged construction
- European Plug/Terminal Box
- Flat Strip Design available
- Radiant Heater for tube furnace
To Order Ceramic Band Heaters Please Provide:
Watts, Volts, Inner Diameter, Width, Lead Length, Type of leads, Options.
See: Band Heaters

Ceramic Band Heaters
For Quick Delivery From Stock - CANADA & USA TOLL FREE: 1-800-279-9912