Hard Ceramic Heaters
---
Hard Ceramic Heaters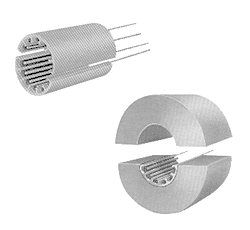 Hard Ceramic Heaters are used where extremely high process or part temperature are required. Hard Ceramic Heatersare capable of temperatures of 1200ºC or 2200°F. Constructed out of a hard ceramic shell the heater have a Kanthal or Nichrome wire that is first coiled and then placed in a groove. After this is cured and covered with a high temperature cement that prevents the wire from oxidizing.
Hard Ceramic Heaters are available in circular or flat sections, and can be designed in a variety of voltages and watt densities. To form a circular heater they can be supplied in 1 /2 Rounds, 1 /4 Rounds, 6th rounds or 8th rounds. Flat plate heaters are available in various thickness'.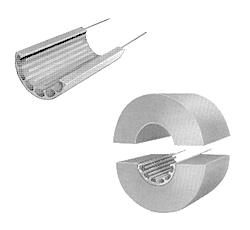 Hard Ceramic Heaters Features:
Extremely high temperatures

Embedded elements

Longer life and durability

Various sizes are available

Hard ceramic plates with varying thickness

Flexible leads or braided leads

Various voltages available
Hard Ceramic Heaters Specifications:
Dimensions - Flat Plates Max Length 60" Max width 36", Round Heaters any ID Can be manufactured

Voltage - 120, 240, 480, or 600 volts

Phase - Single or Three phase available

Terminations - Leads Braided Uninsulated

Wattage - Maximum Up to 30 W/in

Maximum Temperature - Up to 2200ºF (1204ºC)

Options - Holes, Grooves, Notches, Cutouts, Available

Coils - Nicrome wire Embedded or Exposed

Accessories - Insulation Blankets 2200ºF, Hard Board Ceramic Insulation, High Temperature wires and connectors

Applications - Various types of Furnaces Lab, Tube, Box, Process Heat Radiant, and Conduction.

Ceramic Heaters
For Quick Delivery From Stock - CANADA & USA TOLL FREE: 1-800-279-9912