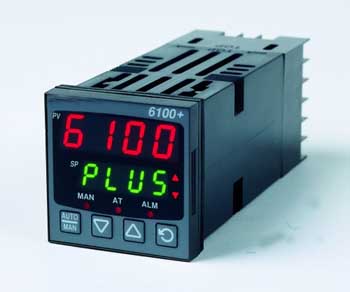 Temperature controllers are measurement devices used for temperature control. Thermocouple-type and resistor-type temperature controllers measure temperature electronically, obtaining the temperature change from the sensor and sending the measured data to the electronic processor. The output device will then control the temperature variation within a specific range.
Temperature controllers are instruments which receive sensor signals and control heaters or other devices to maintain a preset temperature via a temperature controller available from Heaters Controls And Sensors Ltd.
HCS Ltd., offers a comprehensive line of analog and digital temperature controllers for use in temperature and process control on plastics and packaging machinery, food processing, semiconductor manufacturing, and for scientific and medical equipment.
All temperature controllers models feature PID auto-tuning and many also feature self-tuning - which continuously monitors the process and adjusts the control parameters to suit the conditions
Our temperature controllers range covers 1/4 DIN, 1/8 DIN, 1/16 and 1/32 DIN models with a user selectable input type and with up to 3 outputs.
We also have a comprehensive lin of Fuzzy Logic Temperature Controllers to provide leading edge solutions for your temperature control needs.
Temperature Controllers
| | |
| --- | --- |
| | Analog Temperature Controller 1/16 DIN solid state multifunction timer, is a cost effective product that has excellent application flexibility with 4 operating modes, and sixteen time ranges, that are all selectable from the front panel. |
| | Barnant Temperature Controllers for a wide variety of temperature control applications. Choose from standard or deluxe models. Both controller models provide excellent control accuracy and power capabilities. Use as a benchtop controller or panel mount with the optional panel mount kit, sold separately. |
| | PID Temperature Controllers features dual displays & selectable inputs. These PID Temperature Controllers are easy to operate and the out can be ordered for a relay contact, a voltage pulse, or a 4 to 20 mAmp output. |
| | Programmable Temperature Controllers are compact 96 mm (4" ) Square DIN size unit that features a unique touch key panel which allows the display section of the front panel to be used not only for setting but also for data entry. |
| | FM Approved Limit Controllers from Heaters Controls And Sensors presents a comprehensive limit controllers directory resource. This limit controllers directory features FM approved limit controllers, Hi limit controllers, 1/4 DIN limit alarm, 1/4 DIN limit alarm and more. |
| | Field Selectable Input/Output Controller features universal field selectable outputs for the main control output. The main control output can be selected from a relay contact, a voltage pulse, or a 4 to 20 mAmp output. |
| | Fuzzy Logic Temperature Controllers for temperature, process, limit control come in a wide array of controller configurations: limit controllers, process controllers, alarm controllers, valve motor controllers, plastic controllers, indicator controllers, hot runner controllers, in 1/4, 1/8, 1/16, 1/32 DIN sizes. |