HT-800 Thermo Hygrometer
---
HT-800 Thermo Hygrometer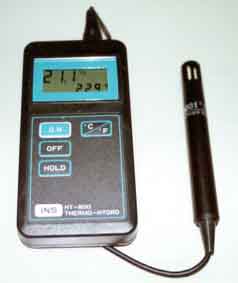 The HT-800 Thermo Hygrometer has been designed with a highly reliable polymer film humidity sensor. The HT-800 Thermo Hygrometer is equipped with unique features such as a high stability, good repeatability and fast response order to keep high accuracy of measurement at bad ambient. Platinum resistance element (PT100W) is used for temperature measuring and compensation. The HT-800 Thermo Hygrometer has its own dual display which continuously indicates %RH and Temperature simultaneously in ºC or ºF, data hold, power exhausted signal and probe connection can be shown on the display, especially dual analog output can be accessed for controller, recorder or P/C system expansion.
Thermo Hygrometer Features:
Dual analog output of temperature and humidity for system expansion

Unique LCD dual display which continuously indicates temperature and humidity simultaneously

Compact interchangeable combined temperature/humidity probe

High stability, non-calibration before using

ºC/ºF switchable

High accuracy, Temperature: +/-0.2ºC Humidity: +/-2.5%RH

One touch "Data-Hold" function

High precision "Macromolecule Humidity Sensor" with quick response and no hysterisis

Water resistant design, easy operation
Thermo Hygrometer Specifications:
| | |
| --- | --- |
| Measurement Range | Humidity 5 to 98.0% RH Temperature: -15.0 to +60.0ºC (5.0 to +150.0ºF) |
| Accuracy (TAMB - 25ºC) | Humidity: +/-2.5% RH Temperature: +/-0.2ºC,+/-0.4ºF |
| Resolution | Humidity: 0.1% RH Temperature: 0.1ºC, 0.1ºF |
| Sensors | Combined humidity/temperature probe Humidity: High precision Macromolecule Humidity Sensor Temperature: PT100W platinum thermo-resistance |
| Signal Output | Humidity: DC 0~1V, 10mV/%RH, impedance 600W Temperature: DC 0~1V, 10mV/ºC, 10mV/ºF, impedance 600W |
| Display | Twin digital LCD display for temperature and humidity reading in the meantime without switching |
| Over Range Alarm | Automatic, when humidity value out of the measurement range |
| Measuring Rate | 2.5 per second |
| Data Memory | Last value memory by "Hold" switch |
| Power Supply | One 9V 006P or IEC 6F22 battery |
| Battery Life | Approx. 120 hours (continuous operation) |
| Low Power Alarm | Automatic - Battery Symbol lights up on alarm |
| Storage Ambient Range (Meter) | -20 to 60ºC (-5 to 150ºF) Below 85% RH |
| Dimensions | Meter: 15 x 7.8 x 2.7 cm (5.9 x 3.1 x 1.1 inch) |
| Weight | 280gms, (9.8 ozs) including probe |
* All specifications are subject to change without prior notice.
For Quick Delivery From Stock - CANADA & USA TOLL FREE: 1-800-279-9912