LevelSonic Ultrasonic Level Sensors
---
LevelSonic Ultrasonic Level Sensors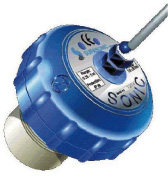 The small, compact LevelSonic Ultrasonic Level Sensors offer non-contact measurement of liquids and solid levels. The transmitter is two-wire loop-powered and uses a simple magnetic key to set up the level range to be measured, as well as selecting the response rate and default currents. On-board AND visible operating and fault indication keeps you informed of the operational and fault status at the transmitter.
Special Features
IP 68 rating and lightning protection - Water Industry

Hazardous certification - Petrochemical Industry

TEFLON nose, inert to acids - Chemical Industry

Tri-clover couplings - Food Industry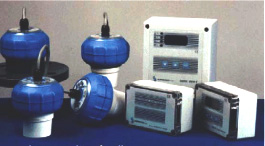 The SONIC™ is a cost effective, ultrasonic level transmitter for measuring and monitoring liquid levels in open and closed tanks. Its small size makes it supercompact, combining sensor and electronics in one housing. The nose section is manufactured from Teflon™. This Dupont™ material is resistant to most chemicals, and includes an on-board, temperature sensing element to ensure correct level measurement at all temperatures. The electronics housing is manufactured from UPVC.
The SONIC™ transducer transmits a series of short, controlled, ultrasonic pulses towards a surface. The reflected echoes are intelligently conditioned to remove any noise, and the time taken for the echoes to reach the sensor face are calculated and converted to distance for transmission as a current loop output.
Zero and full tank levels are entered into the SONIC™ by touching the Z and S targets, on the Sonic body, with the magnetic key provided. The SONIC™ does not rest. The SONIC™ offers on-board and visible LED indication to confirm power is ON and that the unit is working correctly.

LevelSonic Ultrasonic Level Transmitter Data Sheet
For Quick Delivery From Stock - CANADA & USA TOLL FREE: 1-800-279-9912