Exertherm Infrared Temperature Sensor and Switch
from Exergen
---
Exertherm Infrared Temperature Sensor and Switch from Exergen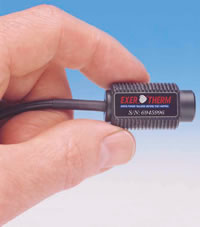 For many key businesses the consequences of a sudden unexpected power failure can result in severe financial/ safety costs. The need for continuous monitoring and reporting of all key components has been a desire that until now could not be met. The current accepted method of non-contact thermal inspection has been via thermal imaging cameras, however, this only gives a snap shot on the day- problems could arise the next day.
Exertherm™ is a system of continuous thermal monitoring for electrical switch gear. Small, low cost, accurate, non contact, infrared sensors are fitted where they can directly monitor key components, even inside enclosures.
These sensors which require no external power measure the target temperature in relation to the surrounding ambient with the signal indicating the °C rise on ambient, so avoiding inaccuracies due to weather conditions, working environment etc.
Each sensor has individual, two stage alarms. The signal is fed back to eight channel data cards, which provide signal conditioning, thus insuring accurate and reliable readings. The cards are daisy chain connected and signals sent to a remote PC with easy read screen.
Information stored can be easily accessed to provide reliable trend analysis. Spotting likely failures before they happen.
The system can be connected to existing building management systems and fitted to new projects or fitted retrospectively.
Features:
Continuous Thermal Monitoring

Detects Power Failures Before They Occur

No External Power

Target Temperature Measured In Relation To Ambient

Two alarm Levels

Data Logging For Analysis

Connects To BMS

New or Retro Fit
For Quick Delivery From Stock - CANADA & USA TOLL FREE: 1-800-279-9912