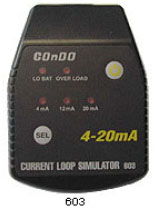 These pocket size simulators are easy to use and provide a quick way for checking 4 mA 12 mA & 20 mA. The simulator provides a quick current source for setting up engineering units on a process indicator or controller.
Ideal as a precision "SOURCE" for re-calibrating Thermometers, process Indicators and Controllers.
The checker can also be used to set up process devices to display in approximate engineering units. It enables the user to easily perform field recalibrations of meters or controllers.
Features