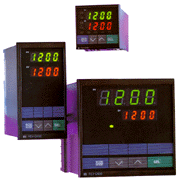 FM approved limit controllers are ideal for ovens, furnaces and kilns configurable either as high or low limit controllers, and universal input, timer for exceeded duration and register for maximum temperature are standard functions.
FM approved limit controllers will shut down the process by disconnecting power from the process if the controller reads a value above setvalue for a high limit controller or below set point if configured as a low limit control.
These FM approved limit controllers will remain in this state until the temperature has dropped below the set value and the reset button has been pressed. The control also has a timer to indicate the total time the setpoint is exceeded i.e. (duration of over temperature) it also has a register that will indicate the maximum temperature reached. Field programmable Low/High process alarms and deviation alarms or band alarms are an option.
FM Approved Limit Controllers Features:
FM approved Limit Controllers

Compact economical 1 / 16 DIN size

Time of over temperature condition indication

User selectable as a high or low limit

Universal Inputs, Timer, Register, Retransmission, Communication
FM Approved Limit Controllers Specifications:
INPUT Programmable
- Thermocouple, J K T R B S L N
- RTD, PT 100
- mV, 0-50mV DC
- VDC, 0-5VDC 1-5VDC, 0-lOVDC, 2-lOVDC
- mA, 0-20mA 4-20mA Remote Reset Input Voltage free contact closure required for reset Input sampling rate 0.25s

OUTPUTS
Output 1 - Limit Relay SPDT 5 Amp at 120/240 VAC resistive
Output 2 - Alarm/Annunciator SPDT 2A 120/240 VAC resistive
Output 3 - DC Linear (recorder) 0-20mA 4-20mA 0-l OV 0-5V
- SPDT relay 2A resistive 120/240 VAC OUTPUT
- Limit Control Output Output type selection The output type (high limit type or Low limit type) is selectable by the user via dip switch Accuracy - +/-0.3%(of output span) Noise-rejection ratio. Normal Mode 40dB (50/60Hz), Common mode 120dB(50/60Hz) Retransmission output (Optional specifications RET)

ALARMS
- Two soft alarms up to two outputs can be used for alarms
- Combination Alarms
- Logical OR or AND of alarms to an individual hardware output

COMMUNICATION
Baud Rate - 1200, 2400, 4800, 9600
BPS Type - Serial asynchronous
UART to-UART link RS 485
Max # of zone - 32
Physical Layer - RS 485
Operating Temperature - 0 to 55ºC
RH - 20% - 95% nn condensing
Supply Voltage - 90 - 264 VAC 50/60 Hz or 22-50 VDC ( Optional )
Accuracy - +/- .25% of span +/-
LSD Dimensions - 48 X 48 X 100 mm