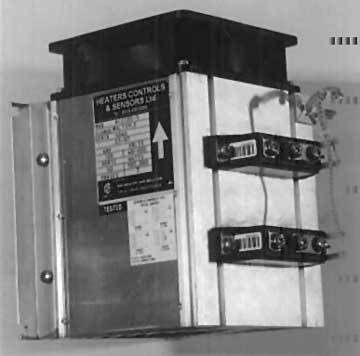 Single and Three Phase SCR Power Controllers are, available with a wide variety of pre-engineered options, are ideally suited for abroad range of applications.They are designed for use with all two, three and four wire resistive, capacitive and inductive loads.
Zero Fired and controllers feature a rapid cycle control technique that minimizes off time and is characterised by rapid on/off cycling with on to on cycle time ranging typically from 16 to 48 milliseconds. This variable time base control reduces thermal cycling of heating elements which in turn will extend the life of the industrial heaters.
Phase Angled Fired SCR Controllers provide a smooth proportional output power from 0 to 100%. Load current ratings range from 10 to 1200 amps. A Soft start feature assures a slow rising output voltage to prevent saturation of inductive loads. The Standard soft start is active on power up and is reset after power loss.
Industrial Heating Power Controllers Features:
Digital electronics phase angle or zero fired

Adjustable soft start, current limit etc.

Line voltage regulation

Multiple control inputs DC volts current or resistance

Subcycle I T fuse

Transient voltage protection

Hard firing gate pulse
Industrial Heating Power Controllers Specifications Design Capabilities:
Voltages. . . . . . . .120, 208, 240, 277, 380, 415, 480, 575, 600, single and three phase
Current. . . . . . . . 10 t0 1200 AMPS single or three phase
Input Types. . . . . . 4 - 20 mAmps, 0 - 5 mA,10 - 50 mA, 0 - 5 VDC, 0-10 VDC,1 - 24 VDC, 120 VAC, 10 K ohm Potentiometer
Load Types. . . . . . .Resistive, Inductive, Capacitive
Protection. . . . . . .MOV Transient suppresser, PIV rating 2.5 Line
Options. . . . . . . . Soft Start, Current Limit, Current Trip, Computer Control, Extended time base, Voltage and current regulation
Above options standard on certain models