Melt Pressure Transducers/Transmitters
FuzyPro Model FZ - MPT 1200
---
Melt Pressure Transducers/Transmitters FuzyPro Model FZ - MPT 1200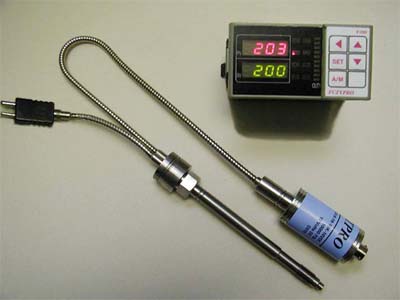 Based on strain gauges technology, FUZYPRO's melt pressure transducers/transmitters are developed and made 100% from stainless steel in mass production. Our melt pressure transducers are suit to measuring and controlling the pressure of some high temperature melts such as chemical fiber, plastic, rubber and petrifaction or other over proof liquids.
Our company draws on the advanced technology from aboard and manufactures with imported materials and key apparatus, provides our products with stable work, credible capability, high accuracy, large outputted signal, good dynamic capability, small over proof zero temperature-excursion and other merits.
For application in food industry, FUZYPRO's melt pressure transducers/transmitters are manufactured without mercury. Model CS-MPT200 are extended with a flexible stem extension, which provides a further thermal isolation to the electronic circuitry. The output of melt pressure transducers is of either mili-volt or amplified signal, such as 0~10Vdc or 4~20mA.
Features:
wide measuring range from 0 ~10bar to 0~ 2000bar

higher measuring accuracy up to 0.25%FS

internal shunt calibration signal of 80%FS

100% stainless made, with Ti-n coating on diaphragm

rigid and compact construction

hastelloy diaphragm available on request
For Quick Delivery From Stock - CANADA & USA TOLL FREE: 1-800-279-9912