Lascar EL-USB-2-LCD+ High Accuracy
Humidity and Temperature USB Data Logger with LCD
---
Lascar EL-USB-2-LCD+ High Accuracy Humidity and Temperature USB Data Logger with LCD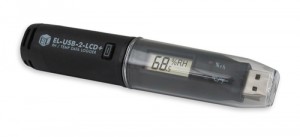 High Accuracy Humidity and Temperature USB Data Logger with LCD
Higher accuracy sensor when compared to the EL-USB-2-LCD

0 to 100%RH measurement range

-35 to +80°C (-31 to +176°F) measurement range

High contrast LCD

Immediate, delayed and push-to-start logging
This standalone data logger measures and stores up to 16,379 relative humidity and 16,379 temperature readings over 0 to 100%RH and -35 to +80°C (-31 to +176°F) measurement ranges. The user can easily set up the logger and view downloaded data by plugging the data logger into a PC's USB port and using the supplied software. Relative humidity, temperature and dew point (the temperature at which water vapour present in the air begins to condense) data can then be graphed, printed and exported to other applications.
The high contrast LCD can show a variety of temperature and humidity information. At the touch of a button, the user can cycle between the current temperature and humidity, along with the maximum and minimum stored values for temperature and humidity. The data logger is supplied complete with a long-life lithium battery, which can typically allow logging for up to 1 year. The data logger is protected against moisture to IP67 when the protective cap is correctly fitted.
The data logger configuration software is compatible with Windows 2000/XP/Vista/7.
Application Information
The EL-USB-2-LCD+ is suitable for a wide variety of applications, these include:
Pharmaceutical fridge monitoring

Environmental and weather monitoring

Agricultural and livestock

Food & drink

Building & site monitoring

HVAC
Calibration Certificates
Lascar's calibration certificates* are traceable to UKAS or NIST standards depending on your location. Customers in the Americas, or customers ordering through our US sales office will receive NIST traceable certificates generated in our ISO 17025 facility, whilst customers in the UK, EU, Rest-of-world or customers ordering through our UK headquarters will receive UKAS traceable certificates.
Certificates ordered through our online facility will be single-point tested at 25ºC and 50% RH. If you have a requirement for additional points, or require a different temperature or RH point, please contact your nearest Lascar sales office.
* Calibration certificates are not supplied as standard, and must be ordered separately. Order part CAL-TEMP/RH-US or CAL-TEMP/RH-UK depending on your location.
Software
The EL-USB-2-LCD+ is supplied with a mini-CD containing the configuration software. This is compatible with Windows XP, Vista and 7 (including 64-bit operating systems). Note, the software is not compatible with Mac or Linux.

EL-USB-2-LCD+ Brochure
For Quick Delivery From Stock - CANADA & USA TOLL FREE: 1-800-279-9912