Plastic Thermocouples
---
Plastic Thermocouples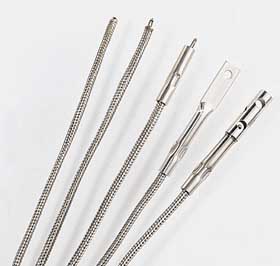 Plastic thermocouples are available for hot runners injection molding machines and extruders.
Plastic thermocouples are made of 301 stainless and use a tube and wire construction utilizing stranded thermocouple cable through out the probe.
Plastic thermocouples are available with various types of leads like Hi temp fiberglass, PVC, SS Braided fiberglass or with Stainless Steel flexible armour cable. Plastic thermocouples are normally rated for low temperature ranges up to a thousand degrees F, however the same construction could be used for higher temperatures.
Plastic thermocouples are also available in metric dimensions for all designs that are required.
Plastic Thermocouples Features:
Adjustable depth thermocouples

Stainless steel high temp construction

J,K,T,E, or N calibrations

Grounded, ungrounded or exposed junctions

Washer, nozzle, pipe clamp, bayonet cap, shim stock or rt angled

High temperature leads, armour, braided, fiberglass or PVC

Termination's bare wire, lugs, plugs, jacks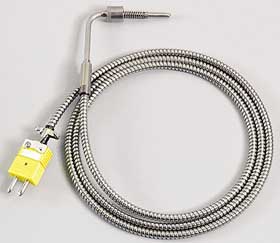 Plastic Thermocouples Specifications and Design Capabilities
Calibration Types - J, K, T, N, E, R, S, RTD

Diameters - Minimum .040" to 3/4" or more

Length - 125" minimum

Leads - Stainless Braid, SS Armour, PVC, Fiberglass

Junctions - Grounded, Ungrounded, Exposed, Dual Isolated

Termination - Bare leads, Spade Lugs, Male Plug, Female Jack

Bayonet sizes - l0mm, l2mm, l5mm,1/2" etc.

Pipe Clamp Sizes - 1 /2 -1.250,1-2.250, 2.250-3.250, 4-5 5-6"

Washer Type - No 6, 8, 10, 1 /4", 3/8" or metric

Shim Size - 3/4" X 3/4" X .010"

Bayonet probe - 3/16" dia 1/2" long

Nozzle Thread - 1/4" x 28 UNF 6 mm or M6 x 1

Right angled - 1/4" or 3/16" OD various length
When ordering specify style, calibration type, termination and lead length.
For Quick Delivery From Stock - CANADA & USA TOLL FREE: 1-800-279-9912